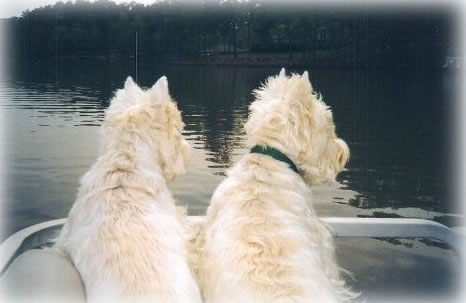 Someone to comfort, to dry up your tears
Someone to be there to quiet your fears
A companion, a pal, a very best friend
Someone to trust and to love,
Til the end
At Arrowhead Acres we have a responsible, well thought out breeding program. Most of our sires and dams are born and raised right here. Our adults are up to date on all medical care, including heartworm prevention, vaccines and rabies shots. Grooming is done to each dog on a regular basis. All of our adults are retired from the breeding program at six to seven years old. Occasionally, for various reasons, we will have a young adult to retire. These adults are well socialized and friendly. They adjust well from our kennel to your couch. All of our adults are crate trained and do well on a leash. Getting them accustomed to your home and family will require some time and energy on your part, but not nearly as long as the time invested in a puppy. Our Westies have been raised with "doggie doors" and this has taught them to go outside to potty. Investing in a doggie door for your home would help but is not a requirement. The use of the crate is strongly recommended and will help make this an easier transition for you and them.
To adopt an Arrowhead Acres Westie you will have to fill out the Compatibility Profile so we can match your personality and lifestyle to an adoptee. When a decision is made for a particular retiree a $250 non-refundable commitment fee will be required and the Commitment Contract filed out. The adoptee is then taken to our veterinarian, and a pre-op physical is done which will help detect any minor health issues that are not obvious. He/she is spayed or neutered. The teeth are also cleaned and pulled as needed. Doing our best to make sure you are receiving a healthy companion. The cost depends on the amount of dental work done and other medical factors. It will remain at our veterinary over night. We ask that you pick up your adoptee two weeks after surgery. If the adoptee is being shipped we will wait three weeks after surgery before shipping.
When you adopt your Westie from Arrowhead Acres he or she will have had a recent grooming. Along with the registration papers, you will receive a shot record, a current rabies certificate and tag. A starter bag of our brand of food will be provided for you. This will help with the nutritional transition until you can purchase a bag of our brand or a good kibble of your choice. I will be available to help you and your new companion adjust so that you both have a long, loving relationship.
Below you will be able to see and inquire about any adoptees we might have available now or in the near future. If you are interested in an adoptee, please fill out the Compatibility Profile and email us.