Westies are a treasure more valuable than gold.
The love they share is priceless as the years unfold.
We have had the great pleasure of meeting and establishing friendships with many people over the years. Below you will be able to read letters and view pictures of previous Arrowhead Acres Westie buyers.
We are providing reference letters from two veterinarians we have been associated with during our years as breeders. Dr. Marie Glennon, who got us off to a really wonderful start, was our veterinarian at our past location and the beginning of our new location. More recently we have been using the services of Bunn Animal Hospital with Dr. Nicki Young. The support, knowledge and compassion of Dr. Young and her staff have already proven to be invaluable to furthering the quality of our Westie babies.
As an American Kennel Club  (AKC) breeder our records, facility and our dogs are inspected on an unannounced, periodical bases by an AKC inspector. Here is a letter written to us, from AKC, generated from one of these inspections.
We hope these letters, pictures and references help you make a well-informed, confident decision about making an Arrowhead Acres Westie
puppy a new addition to your family.
---
Hello Wendy,
I hope all is well. Duke is a healthy, growing pup with loads of energy! We just wanted to send an update for his 7 month old mark.

---
Hello, I got a Westie from you in March and I was concerned because I got
last pick and she was the smallest. But she is perfect!! She is 6 months now
and doing great! So people should know just because you don't get to pick
doesn't mean that the puppy won't be perfect for you!
KoKo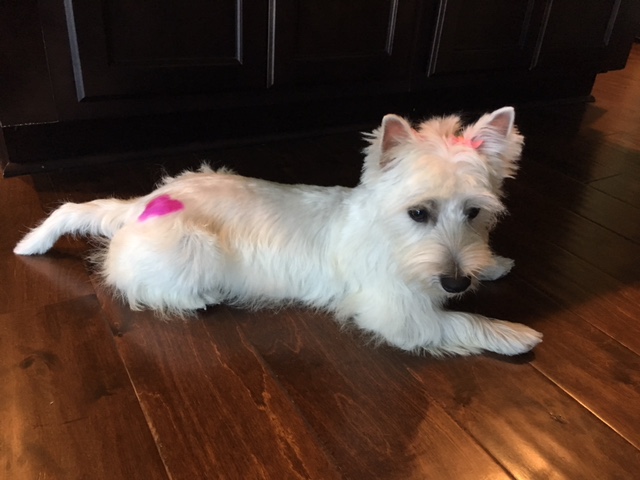 ---
To Our Friends at Arrowhead Acres:
It's been two months since we brought Brody (born March 20, 2016, Gretchen 4, AKA "no polish boy") home and what a ride it has been! After all our concerns about flying with a seven-week old puppy, he was a dream – he charmed the flight attendants and passengers – and slept a good part of the way to his new home is South Florida (and didn't pee once).
As you can see from the attached pictures, he is quite adorable and he knows it! He is beginning to look more like a little Westie and less like a puppy – he is growing up too fast! His personality is something else. One minute he is almost angelic, and the next, he's full of spunk. He makes us laugh every day.
We can't thank you enough for taking this journey with us – from our first visit to Arrowhead Acres in January to meet you and to tour your facility, right up to helping us pick out the right puppy for us, and bringing him home in May – you have all been so helpful and mindful of our needs.
We wish you only the best.
With warmest regards,
Maxine, Tom and, of course, Brody

---
Hi Wendy, I just had to send you a pic of our Thor.  He was from a liter of Crystal and Rugger born on June 30 2016. He was the one that was brought back to you because the older people couldn't handle a puppy. We originally came to pick up Loki from a liter of Fancy and Tonka born July 25, 2016 and asked if you had any others for sale.  Both puppies are great.  They went to get groomed today and I was told that she hasn't seen a Westie with such great hair in 20 years. She said that he is a show quality dog.  I don't take very good pic with my cell phone but thought you would like to see a few.  Merry Christmas, Carol Millman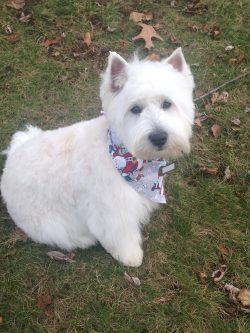 ---
It's been nearly three years since I got a Westie puppy from you guys and
let me say that was the best investment I have made. He is such a joy to be
around and he really has put paw prints on my heart. I would like to thank
you from the bottom of my heart in raising such amazing westies.
Cheers
Devansh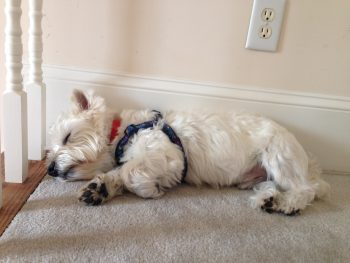 ---
Hi folks, well it has been a number of months since Maddie and Marcus
arrived and we could not be happier. They have been growing and learning and
have become a wonderful addition to our home! They of course have very
distinctive personalities and it is fun to watch them interact taking turns
being the one in charge.
We included a picture of them resting together so you can see how they have
grown. This is one of the few times they have taken a time out together and
allowed us to capture the moment. Maddie is on the left and Marcus on the
right.
Just thought you would like to see how they have turned out.
Best regards,
Michael & Sarah Getman

---
Cindy,
Today was Lily's first birthday. "Tough Lil Tugs" is her mother. We picked
her up on November 14 last year.
Lily is such a joy and blessing. We all love her so much. Thank you for
letting us be blessed so wonderfully! Everyone who meets her thinks she is
so special… which she is.
Hope all is well with you and your family. She is enjoying an antler bone
for her birthday.
All the Best,
Gaye Law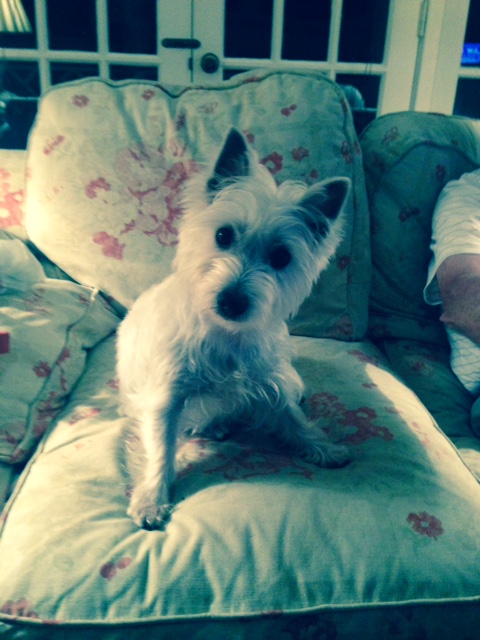 ---
From Fritz and Charlie Kratz.
From left Skye Fox (Fritz's best friend), her owner Maggie Fox and Fritz
Kratz.
Fritz continues to grow into the best dog I have ever had. He's very loving,
smart and friendly to everyone, canine and human.
We both wish you a very merry and blessed Christmas from Southern
California.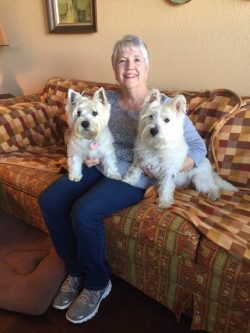 ---
Here are some pictures of me and my new baby. You were right. He has stolen my heart!
He is really doing good in the crate. He only wet in there once — Sat. night. He has not done that since and stayed in the crate last night from about midnight to 6:00 a.m. this morning. I'm trying to get him outside a lot to use the restroom and he seems to be catching it. Whenever we walk, he stays right with me. He HATES the leash right now, but that is okay because he does not wander to far from Daddy.
Hope you enjoy these. I'll send more later as he grows. Please share these with Gena. You were right again — she was awesome!
Bach says hello!
Be well,
Victor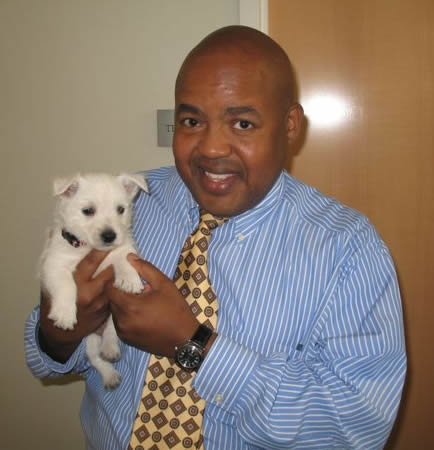 ---
I first started talking to Cindy at Arrowhead Acres towards the end of December when our 13 year old dog's health was greatly failing. I had decided that I wanted to have a smaller dog (Rembrandt had weighed 108 lbs.) and after much debate had decided on a West Highland White Terrier as the breed that I wanted. I took Cindy's profile and then spoke to her again about what I was able to give to a new dog and what I expected from a new dog. After reaching agreement that a Westie would be a good fit for my husband and I we then discussed how soon we wanted to get a puppy and whether we would want a limited or unlimited contract, and what sex we wanted.
Due to a vacation that had been planned since last year, we knew that we did not want to get a puppy before the 9th of May due to being out of town and not wanting to have started training and then have to have someone else take care of him while we were gone. So the wait for a litter of puppies to be born in the correct time frame began. Meanwhile I continued to correspond with Cindy regarding shipping a puppy and about a million other questions that I came up with about the breed.
On March 3rd Duncan was born to a litter from Cottonball and Maverick. He was the first born, first male (of 2 males and 3 females). Now time really started for the count down as to when Duncan would be arriving home to us. During this time I decided that we wanted and unlimited contract due to possibly having him stud for a time. I also decided that I wanted him micro chipped before he was shipped as a just in case. Cindy was more than willing to handle that for me and sent me the paperwork so that I could fill in the necessary information.
On May 12th Duncan saw our Veterinarian for the first time and I was assured that he is in sound condition and that he had never seen a Westie that is so well put together (all the good traits and markings). Our Vet has taken Cindy's information so that any of his clients that are interested in getting a Westie can be referred to Cindy. As we found out, it is now always a good idea to get a purebred puppy from a local breeder, that some of the best breeders may be in other states as was the case for us. Like our Vet, we recommend Arrowhead Acres to anyone looking for a West Highland White Terrier puppy. They care deeply about all of their dogs and the puppies produced by their dogs.
Sincerely,
Pamela Schalk
Tarpon Springs, Florida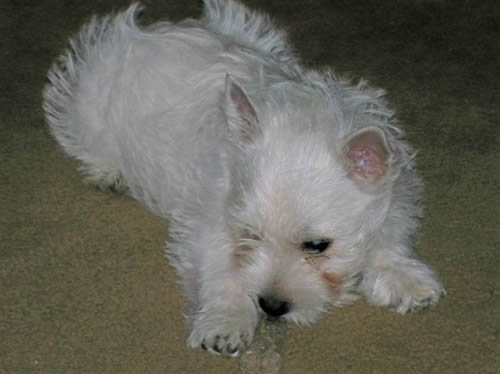 ---
I took him on Friday to get his shots. He has already gained l.3 lbs. He is getting bigger every day and is such a delight to have around. He is learning about getting potty trained and makes more progress every day. He enjoys his walks and has learned to be on a leash and is just too cute for words. He made a hit at the vets as he walked in like a prince and everyone wanted to see him and hold him and asked 100 questions about what kind of dog he is and where did I get him.
Just wanted you to know that he is in a loving home and is making me a great companion.
SUSAN MAILET
Yes, he got an A from the vet when we took him. He was very impressed with his coat and confirmation too. Charlie left a pee on his table but the vet just laughed and said that they have to be 16 weeks before they can hold their pee. He asked who the breeder was, so I told him and he said that he would keep us in mind if he gets asked for a breeder for a great dog. You know that I would share your info with anyone and I am sure that I will be asked every time he goes out.
He has met many people already and they all love him and want to baby-sit anytime. He has been calm and loving even around other dogs. We took him with us to a dinner at my little brother's and there were 16 people there and he just was Charlie and was not intimidated by a lot of people around. He even showed how smart he is. He left no calling cards there.
He has been sleeping with me and I have a puppy pad on the bed that he uses during the night. He is fun, adventurous, and very loving. He knows that I am the mommy but he also spends lots of time with Uncle Rich. His favorite sleeping place is on Rich's quilt and it is even better if he is sharing it with Uncle Rich.
He is a great dog and I am very blessed to have found you and him. Thank you so very much. I will keep you posted on his progress but know that he is very intelligent and most importantly – very loved and needed. His favorite toy is a sock rabbit that is bigger than him but he tosses it around like it was nothing. He has made me laugh more than I have in months – always the best medicine.
Again, bless you.
SUSAN MAILET
---
Hi Cindy,
It was quite a ride back to Carolina Beach. Our 'Lil' has great lungs for sure. Our Golden Retriever Renn has taken charge of making sure that nothing happens to her. Our cat went running in the other direction.
She went to our Vet today who did a thorough exam and said that she's a very healthy young lady. He was very impressed. Thank you so much for the wonderful care that you give your dogs. I will be more than happy to recommend you if you ever need a reference … but I'm sure you have plenty.
Barbara Duff
Cindy,
Lil is such a feisty little darling.  She's so full of life and such a wonderful addition to our family. You are welcome to use me as a reference. I'm sure my Vet would back that up too.  He was very impressed.
The one picture of Lil is with my son Matthew holding Lil and our Golden Retriever, Renfield.The next is of a gift from a friend for our new addition. The pic of Lil being held by the young girl is shortly after we picked her up.  She's Victoria, Lil's 'Nanny' or baby sitter.  Those were at 6 weeks. Lil in the grass is at 7 weeks.  She's growing up so fast.  Everyone who sees her just loves her.  I will recommend anyone who is looking for a good Westie to you and again you are welcome to use me as a reference and as an unsolicited testimonial.
Take care,
Lil's Mom
Barbara Duff
Cindy
I am going to send updated pictures soon. Lil is my angel and the princess of the house.  This princess is also a tomboy.  She gives the guys a run for their money. Everyone who's ever met her has fallen in love with her.
Thanks so much for such a wonderful baby.
Barbara
June 16, 2007
---
Hi Cindy,
Enjoyed talking to you this morning. I LOVE your website and I look forward to your updates!! Bailey is certainly a handsome guy (and born on my parents 49th wedding anniversary!) I'm sure Grace is a sweetie too – how can any of them not be??!!
I have attached a few pics of our "baby", Hailey, some taken with my big "babies" Jordan (15) & Sarah (12), who couldn't possibly be more in love…..Thank you for what you do and I hope to be in touch soon!
Fondly,
Susan Wray & Family
PS The first picture is of Hailey next to a bunny that she was the size of upon arrival in Aug. '05!!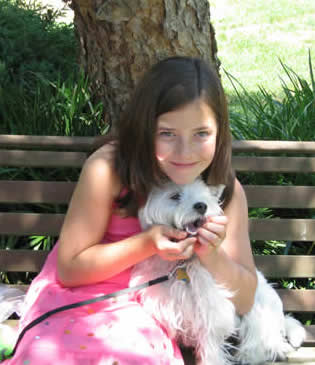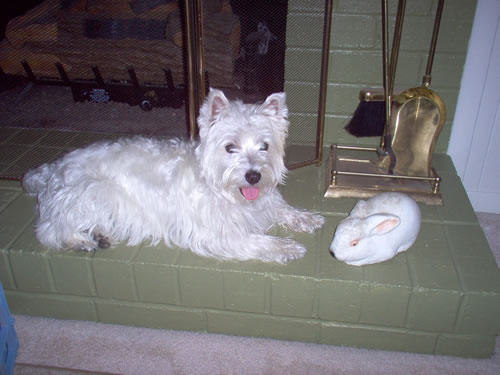 ---
Cindy,
I just wanted to drop you a note to let you know how much we adore our Westie. Nash has become a family member as much as my children.
I knew very little about Westies before we got him. I had wanted an inside dog for years. However, for various reasons I had talked myself out of it. We had adopted cats, guinea pigs, lizards, and a cockatiel. All of these were in effort to replace the idea of  getting an indoor dog. We also had a chocolate lab and a golden retriever. We thought that an indoor dog would be too difficult to train as we have very busy lives. We work full time and have two overly scheduled boys. We spend most every weekend out of town with travel baseball. All of these things caused us to believe that we could not handle an indoor dog. Also, my husband had the notion that an indoor dog was not tough enough for boys. They were just yappy little dogs.
Well, now that we have had Nash for a year. I have to tell you just how wrong all those excuses were. Nash is the most loving dog we have ever had. I am certain that we will never have another breed. He was sooo easy to train. His schedule easily adjusts to ours. We take him to the ball park all the time. We have even found several hotels that allow pets.  Nash is active when we are and enjoys laying around with us when we are relaxing. He can entertain himself with toys, but soon finds a willing partner to join him. I have a high stress job and often come home stressed out to the max. It is unbelievable how he can calm me down and make me relax. He seems to be able to actually talk. We definitely can speak the same language. He lets me know when he needs to go out, when he expects to eat and especially when he is ready for bed. He sleeps with my husband and myself. We started with the crate, but I am such a sucker. I really enjoy having him sleep at my feet. My children and husband love him dearly but they all insist that he is my dog. He pays attention to everyone but clearly seems to favor me.
We thank you again for introducing us to the best companion a pet could possibly be!!
Sincerely,
Joyce Matthews
GREENVILLE, NC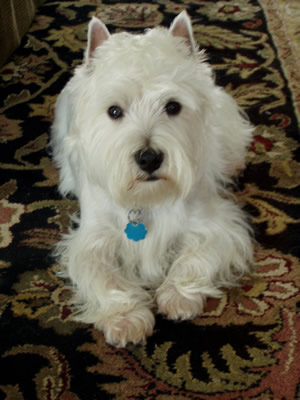 ---
July 1, 2006
Dear Cindy,
I have two West Highland Terriers from you, and I am more than happy with them. They are healthy, good humored, happy additions to this household, and I would recommend your breeding efforts to anyone interested in Westies.
I got Schotzi six weeks after he was born on March 13, 2002, and he is princely, if not just plain handsome! Schnucke, his beautiful, spirited half-brother, I got six weeks after he was born on Halloween of the same year. They share a father, "Emerald Woods Bailey," and Schotzi's mother is "Autumn Acres Flossy Jane" while Schnucke's mother is "Autumn Acres Promise of the Future."
I remain sincerely grateful!
Kathi B. Fogleman
Southport, NC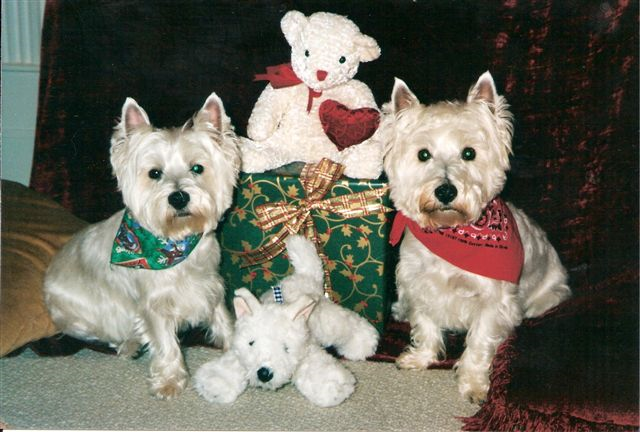 ---
Hi Cindy,
I'm so glad to find you again. We adopted "Haley" from your kennel on February 10, 1999, daughter of Monte and Carmen. She is still doing great and we love her more every day. She has the most expressive face and eyes, high self esteem, wonderful personality and learns new tricks so fast. My husband retired last year and Haley is happier than ever he's in his easy chair more (and his lap is her favorite spot-I'm jealous). Our 6 year old granddaughter adores her. She rides her in the baby carriage and loves to dress her up. Haley loves to fetch golf balls and her squeaky toys, chase the flashlight beam and chase off the geese and birds in the back yard and just be near us.
When we had the 2 labs outside, she kept them both in line and they ALWAYS let her eat first (that high self esteem). It was so cute watching the (always ravenously hungry) 100 lb.s lab just back up, and let the 13 lb. Westie eat first. There's never any doubt, Haley is "queen bee". Now that she has no playmates, we're considering a second Westie. I'm trying to get my husband to agree and if does, we certainly want it to be one of yours. I especially appreciated being able to visit your kennels and see the sires and dams before we adopted.
Cindy, we could tell you really loved your Westies and you knew your stuff. You helped us pick out just the right pup and everything you said was true. Haley has had no health issues. Her only non-routine trip to the vet was with skin allergy to fleas and some shampoos, but that cleared up quickly with the chlorhexidine shampoo. She is the perfect pet for us. I love your new website and will be watching closely and hoping to see you again soon to get her a playmate.
Sincerely,
Elaine Wells
Rocky Mount, NC 27803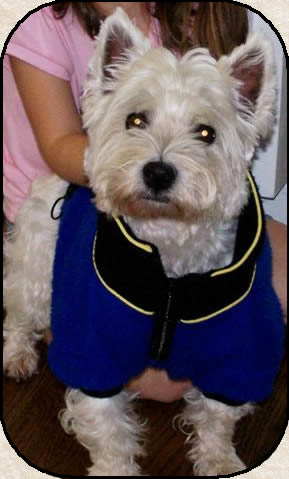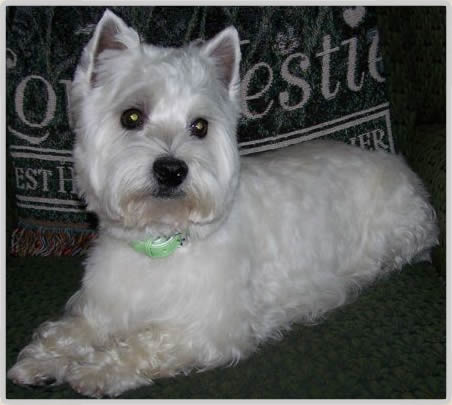 ---