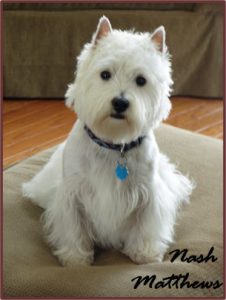 Westies are a treasure more valuable than gold.
The love they share is priceless as the years unfold.
We have had the great pleasure of meeting and establishing friendships with many people over the years. Below you will be able to read letters and view pictures of previous Arrowhead Acres Westie buyers.
We are providing reference letters from two veterinarians we have been associated with during our years as breeders. Dr. Marie Glennon, who got us off to a really wonderful start, was our veterinarian at our past location and the beginning of our new location. More recently we have been using the services of Bunn Animal Hospital with Dr. Nicki Young. The support, knowledge and compassion of Dr. Young and her staff have already proven to be invaluable to furthering the quality of our Westie babies.
As an American Kennel Club (AKC) breeder our records, facility and our dogs are inspected on an unannounced, periodical bases by an AKC inspector. Here is a letter written to us, from AKC, generated from one of these inspections.
We hope these letters, pictures and references help you make a well-informed, confident decision about making an Arrowhead Acres Westie
puppy a new addition to your family.
---
What Our Clients Say…
Mr. Beau Baby Ballard
Hi, my parents picked up a baby boy from Arrowhead Acres 2 years ago. He was born January 29th, 2021 to Cupcake Moscato an Twice as Tough "Dually". We named him "Mr. Beau Baby Ballard (B.B.B)". He has been the best Lil boy ever. We only wished we had gotten 2 instead of 1. Beau is so loving, cuddly, energetic an so loves me. They say your pet picks a certain member of the family. Even though my dad bought Beau for my mother after "Kawi" her 11 year old died of diabetes that was unable to be stabilized. Beau has chosen me as his person. When I leave the room he follows. When I shower he follows, when I walk next door to my grandma's he follows. But when I have to leave to go back home on Monday mornings after being with him from Saturday midday he does not like that we have to be separated. It won't be long tho that I will move back home to be with him. He is my everything. My protector, my shadow, my napping an sleeping mate. If I have to go anywhere without him my parents tell me he crys an whines until I have to come back an get him or until I get back. I would love to ride him with me. He just does nit ride good. But that can be worked on. We are so blessed to have gotten this baby boy from your establishment. Thank you for our joy an happiness in Beau.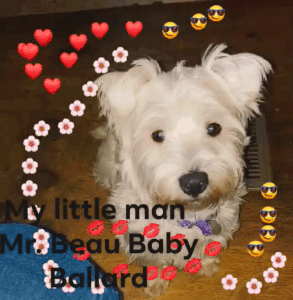 Joyce Ballard
---
Leave Us A Review!