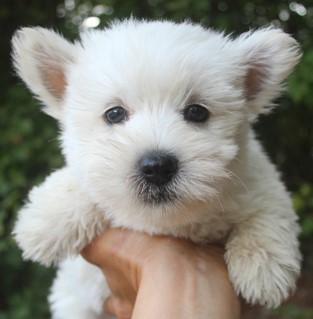 The first time I laid eyes on you, I knew right from the start,
That you were meant for me alone: You put paw prints on my heart!
---
My goal as a breeder is to match your family to the right puppy. The Compatibility Profile will help us to match your family to the sire, dam and puppy most suited to your personality and lifestyle. Our pups are sometimes sold in advance, so there can be a waiting list. A $350 non-refundable deposit is required for limited AKC registration and a $1000 non-refundable deposit is required for unlimited AKC registration. This deposit will hold your puppy or position, male or female, from a certain litter. We all have to be patient for just the right puppy.
Our puppies sell for $2450 with limited AKC registration and $3500 with unlimited AKC registration. I offer a health guarantee and well socialized pups. We start the house breaking process with climate controlled indoor/outdoor runs. With the purchase of your puppy you will receive the shot/worming records and a small supply of food to use until you can switch the puppy to the food you would like to use. It goes without saying you will have my assistance available to you throughout the life of your puppy.
All perspective puppy buyers are invited to come and visit Arrowhead Acres and pick up your puppy or we have had great success shipping and delivering our puppies to their new families. We also offer flight nanny services with costs start at $675. These charges include a shipping crate, veterinarian check, health certificate, trip charge and airfare. Delivery charges vary based on the length of the trip. For more information review the Shipping and Delivery Page.
Below you will be able to view sires and dams of available and upcoming litters. You will also see pictures of the puppies in each litter, a video, litter information and availability of puppies in each litter.
$2450 Limited Registration
$3500 Unlimited Registration
When our Westie puppies are born they are individually identified with a small bit of different colors of fingernail polish, applied to the rump for the males and between the shoulders for the females. We have found in the past 25 years this to be the safest method of identifying our babies. In the past we have tried using, yarn which could be ingested and cause a blockage in the puppy. We tried the litter collars and puppy's feet would get hung up in them. The litter collars would also sometimes get hung on a bucket hanger or even around their mom's hair choking them. This polish color stays with the puppy for its entire time here at Arrowhead Acre Westies and used for identification purposes on the Website.
BELOW IS THE FIVE STEP CODE GUIDE THAT EXPLAINS THE TITLE OF EACH PUPPY PICTURED BELOW. PLEASE USE THIS IDENTIFIER ON ALL CORRESPONDENCES.
1. The 1st number is a puppy identification number for the puppy in the picture.
2. The 1st word in the Dam's Name.
3. The 2nd word listed is the color of nail polish that has been used since birth to identify the particular puppy in the picture.
4. The 3rd word is the gender of the puppy in the picture.
5. Lastly, Date of Birth will be at the top of the next page.

PLEASE CAREFULLY READ THROUGH THE "PRICES AND PURCHASE PROCESS" PAGE!
WE DO NOT ACCEPT DEPOSITS ON ANY PUPPY 6 WEEKS OLD OR OLDER. AT 6 WEEKS OLD ONLY PAYMENTS IN FULL WILL BE ACCEPTED. ALL PUPPIES MUST BE PAID FOR IN FULL ON OR BEFORE THE DAY THE PUPPY TURN 6 WEEKS OLD TO HOLD THEM UNTIL THEY ARE 8 WEEKS OLD AND ARE PICKED UP, FLIGHT NANNIED OR DELIVERED.
ALL OF OUR PUPS COME ALREADY MICROCHIPPED!