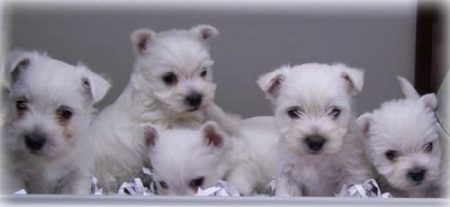 Westies Are Like Potato Chips…
You Can't Have Just One!
For questions regarding Availability of Puppies, Appointments and Temperaments
Contact: Cindy at 252-230-7739 or 252-478-4356
All of our West Highland West Highland puppies are born and raised here at Arrowhead Acres. This is my family's 12 acre mini-farm located in Spring Hope, N.C. The Our Westies puppies have a pond to play in and lots of room to run, play and grow. If we do not flight nanny or deliver your puppy to you, Arrowhead Acres is where you will come to pick up your new Westie puppy.
Physical and Mailing Address:
10468 Lake Royale Rd.
Spring Hope. N.C 27882
Some Mapping Services and GPS Devices SOMETIMES DO NOT have the correct directions once you get into the general location of Arrowhead Acres (our farm). You may need to use the home address below.
10560 Lake Royalle Rd.
Spring Hope, NC 27882
We welcome everyone to visit
ARROWHEAD ACRES WESTIES
at
ARROWHEAD ACRES
BY APPOINTMENT ONLY PLEASE
When I say… "I am a Christian"
I'm not shouting "I'm clean livin'."
I'm whispering "I was lost,
Now I'm found and forgiven."
When I say… "I am a Christian"
I don't speak of this with pride.
I'm confessing that I stumble
and need Christ to be my guide.
When I say… "I am a Christian"
I'm not trying to be strong.
I'm professing that I'm weak
And need His strength to carry on.
When I say… "I am a Christian"
I'm not bragging of success.
I'm admitting I have failed
And need God to clean my mess.
When I say… "I am a Christian"
I'm not claiming to be perfect,
My flaws are far too visible
But, God believes I am worth it.
When I say… "I am a Christian"
I still feel the sting of pain.
I have my share of heartaches
So I call upon His name.
When I say… "I am a Christian"
I'm not holier than thou,
I'm just a simple sinner
Who received God's good grace, somehow!
Romans' Map To Heaven
Do you know that if you died today, you would go to heaven?
If you could know for sure, would you do what the Bible says?
WHO IS GOOD?
Romans 3: 10
As it is written, There is none righteous, no, not one.
WHO HAS SINNED?
Romans 3: 23
For all have sinned, and come short of the glory of God.
WHERE SIN CAME FROM
Romans 5: 12
Wherefore, as by one man sin entered into the world; and death by sin, and so death passed upon all men, for that all have sinned.
YOUR WAY OUT
Romans 5: 8 But God commendeth His Love towards us, in that, while we were yet sinners Christ died for us.
Romans 10: 13
For whosoever shall CALL upon the name of the Lord shall be saved.
Take God at His word and claim His promises.