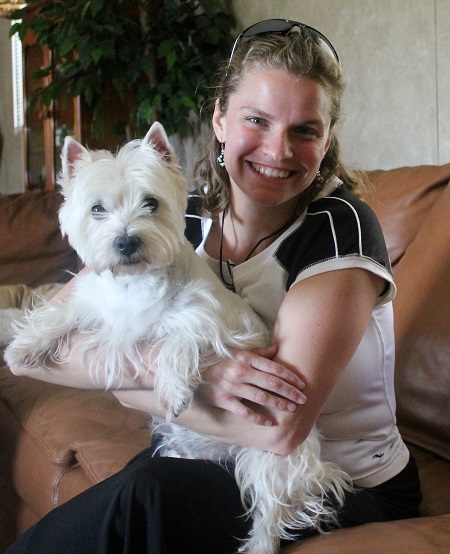 You look at me with eyes of love;
You never hold a grudge…
You think I'm far too wonderful to criticize or judge
We came to own our first Westie in 1990. It was a wonderful chance of fate! Although I owned my own grooming shop and was grooming several Westies, we knew little about the breed except for the breed name and group. We were lovers of larger, intelligent, athletic breeds, due to my two daughters love of horses, dogs and outdoor activities. In the first few weeks of ownership we were all hooked because we were amazed at this smart little dog with such a big dog attitude.
In 1992 the love of our lives was picked from a litter of eight little "polar bear like" puppies. This little female, we named Sprite, was content to be in our laps or just in our presence during our quiet evenings at home. When traveling with horses, boats and ATVs, her confidence and intelligence allowed her to keep up with our standard poodle and sheltie. Sprite's small size and non-shedding coat made her the ideal dog. She was loving, affectionate and brave of heart, full of kisses and adoration. This was the beginning of Autumn Acres later to become Arrowhead Acres.
I felt in my heart of hearts this was the ideal dog for most of the human race, except for the persons not willing to train and discipline. Westies are for the active or the couch-potato, for apartment dwelling or country living. These little guys and girls would fit perfectly into a family with or without children or pets.
I decided I wanted to make these terrific little terrier dogs available to the general population. It has been a long and exciting journey. I have devoted the last twenty-five years to improving my bloodlines. I have concentrated on health and temperament issues, but I have also strived to follow the conformation standard of AKC for the Westie breed. I do not show myself although I do produce puppies with show potential. I have placed several puppies in show homes throughout the years. My main goal as a breeder has been to produce healthy, happy, well tempered Westie puppies for loving companions.
Cindy Erickson – Retired
If you are looking for West Highland White Terrier puppies for sale, then there is not a better option than breeder Arrowhead Acres. With years of experience, and a sterling reputation, we will provide you with the perfect pet needed to make your home complete.
WE HOPE YOU ENJOY YOUR VISIT TO OUR WEBSITE AND CONSIDER THE ADDITION OF AN "ARROWHEAD ACRES" WESTIE TO YOUR FAMILY.
Cindy Erickson – Owner/Operator